Northern Minnesota is a very unique place for vacationers to visit. Unlike most areas in Minnesota it is a true wilderness destination. We are home to the Boundary Waters, which is also called the Boundary Waters Canoe Area Wilderness.
The Wilderness Act of 1964 made the BWCAW legal wilderness as a unit of the National Wilderness Preservation System, while the 1978 Boundary Waters Canoe Area Wilderness Act established the Boundary Waters regulations much as they are today with motors allowed only on a few large entry point lakes. The Boundary Waters Wilderness Area is managed by the US Forest Service and can only be entered by a permit issued by a cooperator such as Timber Trail Lodge or Boundary Waters Outfitters.
Within the BWCAW are hundreds of prehistoric pictographs and petroglyphs on rock ledges and cliffs. The BWCAW is part of the historic homeland of the Ojibwe people, who traveled the waterways in canoes covered in birch bark. Prior to Ojibwe settlement, the area was sparsely populated by the Sioux who dispersed westward following the arrival of the Ojibwe.
Of significant note the Boundary Waters is located in the Superior National Forest and is the largest wilderness east of the Rockies. National Geographic Magazine proclaimed the Boundary Waters "as one of 50 places a person should visit in their lifetime". The Boundary Waters is the lower portion of the Canadian Shield and was formed over 17000 years ago when glaciers scoured the landscape leaving exposed bedrock. The Greenstone rock found in this area is over 2.7 billion years old. We at Timber Trail Lodge can make entering the Boundary Waters for any length of time a part of your Minnesota family or fishing vacation.
The Boundary Waters Wilderness borders northern Minnesota and Canada. It is a 1 million acre wilderness with over 1000 miles of canoe routes and over 2, 200 campsites. All the campsites are accessible by water only.
The landscape of the Boundary Waters is an ancient Boreal forest, and visitors to the area are amazed with the beautiful scenery, abundant wildlife and the GREAT fishing... Ely Minnesota is the major tourism entry point into the Boundary Waters.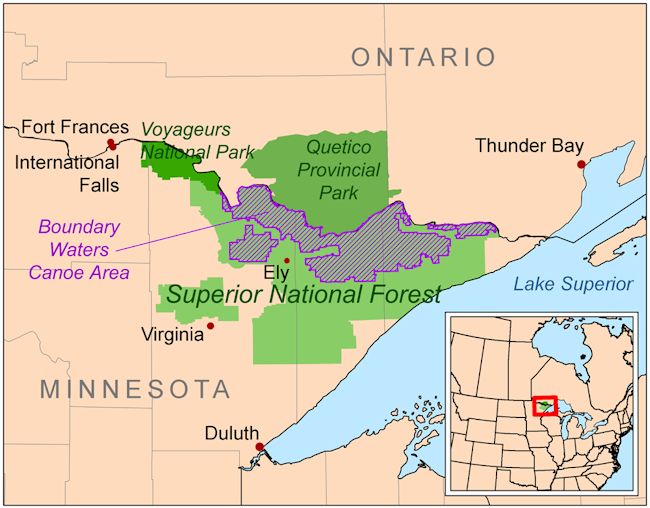 Timber Trail Lodge and Boundary Waters Outfitters (www.boundarywatersoutfitters.com) can provide direct access to the Boundary Waters directly from our resort property. We also service all Ely area entry points into the Boundary Waters. We can make visiting the Boundary Waters easy for families or fisher persons of all ages and physical abilities. If you come to Ely and are this close to the Boundary Waters, please let us help you make visiting the Boundary Waters part of your Minnesota family and fishing vacation. For questions, please call 800-777-7348.