We have everything a fisherman needs for our chain of lakes and the surrounding area: bait, tackle, gas, boats, motors, canoes, fish cleaning house, freezers, veteran guides and excellent advice. We are a full-service fishing resort with direct access to four lakes, which includes both motorized and paddle-only portions of the Boundary WatersFishing At Timber Trail Lodge in Ely, MN.
Call for information about our fishing packages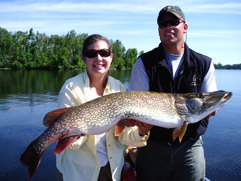 or to set-up a custom fishing trip for your group. We are here to help you find the right place to spend your next fishing vacation. Our professional guides will help you learn these productive waters and take you into remote lakes around Ely, Minnesota. Each guest of Timber Trail Lodge receives free maps of our lakes and our staff is available to provide you with the information you need. 800-777-7348
Fishing in Ely, MN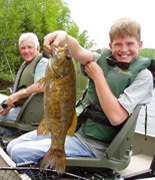 Get your tackle box out of winter storage. The fishing season opens earlier here than in most parts of Minnesota. With the retreat of winter in early May, the spring thaw leaves our icy-cold waters alive with trophy-sized species, enticing avid anglers eager to get a line into the water. So, whether you're seeking tonight's dinner or a trophy for the den wall, we offer an ideal setting for your fishing vacation. Many Ely vacationers enjoy the northwoods waters for their angling opportunities. Known for its walleye, northern pike, small and largemouth bass and slab size panfish, Ely's waters can be extra productive with the help of one of our fishing guides. Our guided trips are designed to put you directly over some of northern Minnesota's best producing waters and fishing holes. Our guides will tell you which bait and lures will work, and how to use them effectively. Fish all day, only breaking for a delicious shore lunch of the morning's catch prepared by your guide. Don't let this fishing opportunity escape you. When fishing with a guide, your chance of landing more and bigger fish is greatly increased.
To view our Fishing Gallery click here.
The Tackle Box:
We have gathered a list of guide tested tackle to help with your trip to Northern Minnesota. Our guides fish these waters just about everyday during the summer and they have tested different lures, colors and bait. Let their experience help.
The list below is comprised of general items that have proven useful over the years. Many of the items do have suggested colors. These are only suggestions, "hot" colors change constantly so don't be afraid to experiment. You also will want to tailor this list towards the type of fishing you plan to do, and don't forget to throw in a couple of your own secret lures. We also highly recommend using live bait. Nightcrawlers and ribbon leeches are the easiest to use and keep alive. We do have a small tackle shop stocked with all the items listed below in all the "hot" colors.